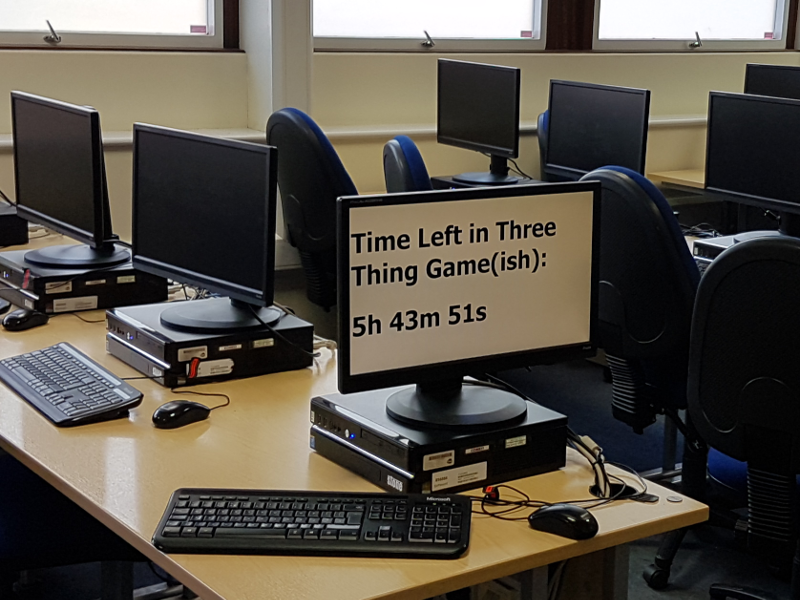 One of the students created the countdown timer to help them focus when doing coursework in the lab and modified it to remind the jammers just how little time was left! Fast forward from when that picture was taken and another Three Thing Game has concluded.
An account of the event follows.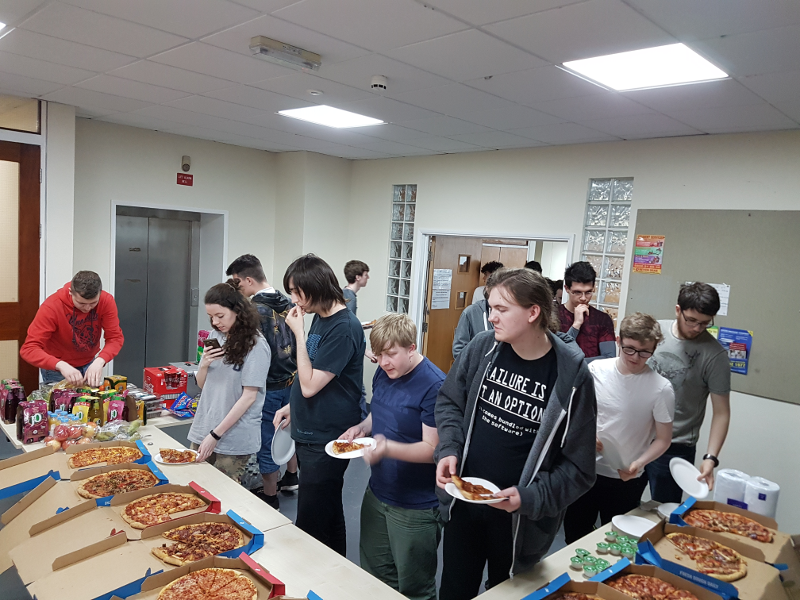 The metaphorical dinner bell brings the hordes to the table, all in a very refined, orderly, and polite queue. As usual the table, groaning under the weight of all the food, is cleared by the jam locusts.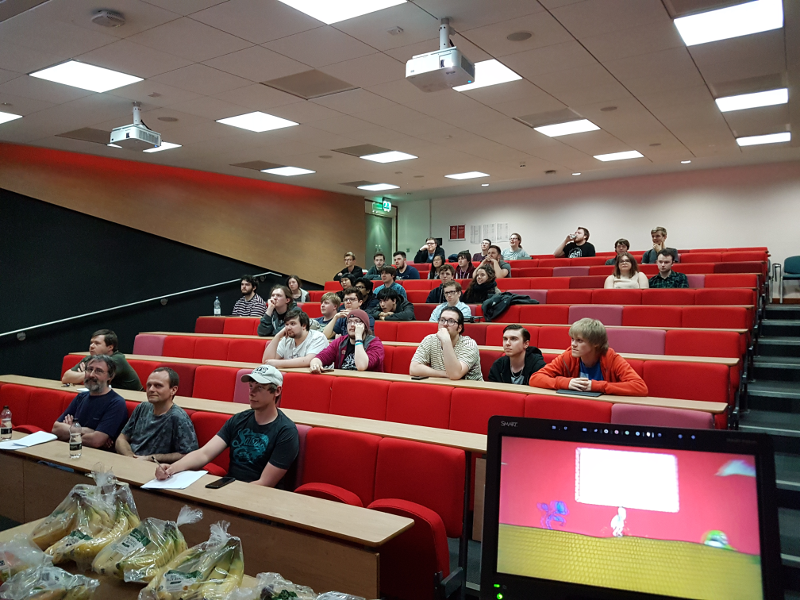 There were a smaller number of participating teams this year due to unfortunate shifting coursework deadlines that distracted some of those who would normally take part from their true calling - making games. Nevertheless there was a unprecedentedly low attrition rate this time with almost all of the teams making it through to the judging. Those few, those happy few, those band of jamlings created some great games over the given 24 hours.
We also had a team of alumni come back to take part: "The return of the return of Uncle Mike's Prolog Party". It was great to see them again and find out what they have been doing since they left us to seek their fortunes in the 'real' world.
The winners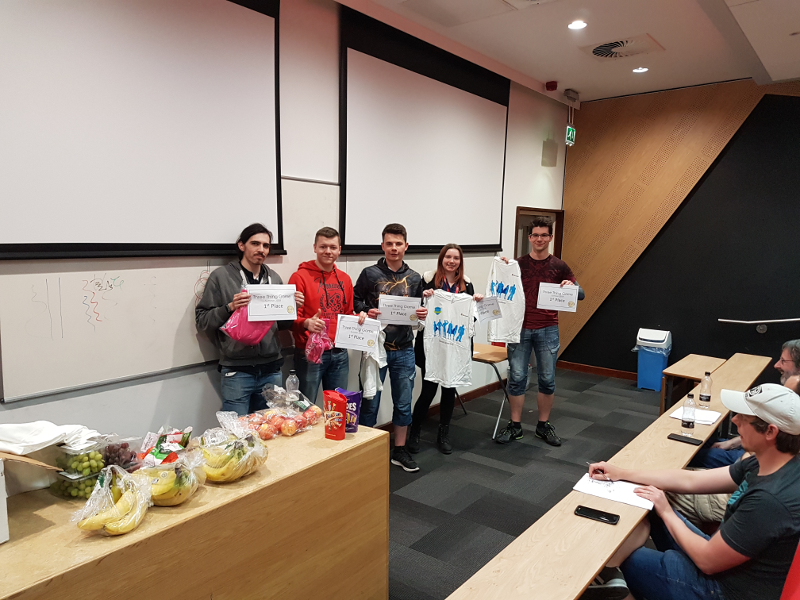 In first place is The Parsenips defending their title earned at the last Three Thing Game (http://threethinggame.com/post/2017-11-04-the-culture-event/). Their three words were: Angry, Rolling, and Drake. Eschewing what they said was the obvious choice, to make a game about the singer (I may be too old), their game instead centres around a duck, a mallard to be precise, a boy mallard to be even more precise, whose hunger drives him to rage-fuelled rolling to trip the park-strolling pedestrians and steal their bread.
Second place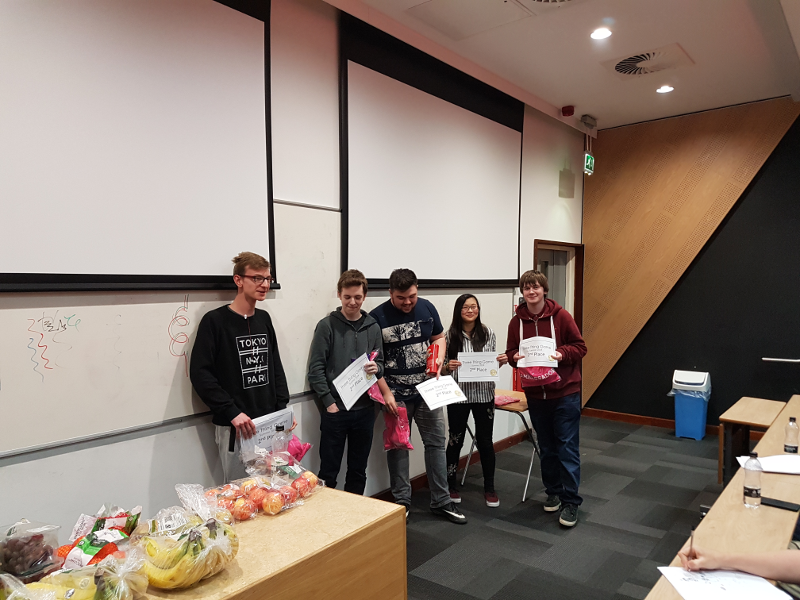 It's Data Not Data, is the name of our second place team. This all new team from St. Mary's College took the words Psionic, Climbing, Panda, and created a game where you control a mentally-mutated panda. The goal is to climb as high as you can up the bamboo ladder whilst dodging the dangerous rockfall from above. As you climb you can unleash your psionic power to repel the rocks. Another great production from the school, whose previous teams have also managed to place.
I haven't managed to snag a video of this one.
Third place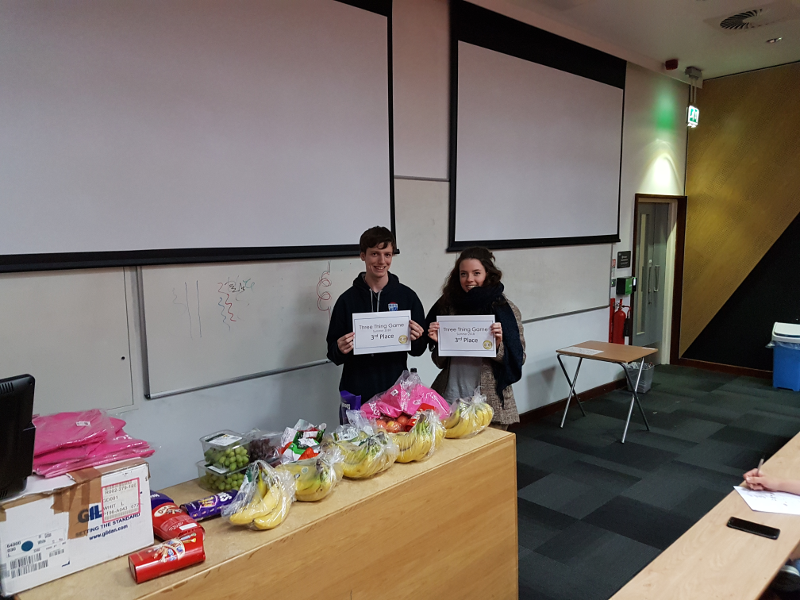 Completing the podium is Ctl Alt Elite. Their words were … and they created something really rather trippy with a very distinctive art style. You control a bug creature through a platform adventure avoiding and destroying the creatures.